Due to certain reasons, like aging, people lose the original shape of their hairlines. Therefore, they go about searching for remedies to restore their hairline. One of these remedies is hairline and scalp tattooing.
Although this process doesn't restore your hair, it gives you the look you want. We all want to look our very best; looking our best involves our hair. Hairline and scalp tattooing helps you restore the similar look you would have with your hairline or most of your lost hair restored.
What is Hairline and Scalp Tattooing?
Hairline and scalp tattooing are forms of scalp micro-pigmentation. This process is a non-surgical treatment. It helps cure baldness or hair that is thinning.
Basically, the process involves applying natural pigments into the scalp to realistically simulate the appearance of a low shaved hair or the popular buzz cut.
Scalp micro pigmentation (SMP) is a very safe process. For the hairline tattoo, you are only restoring the original shape of the hairline. While, for a scalp tattoo, you are filling the entire scalp with pigment.
The scalp tattoo is mostly done when you are bald and need to have a little hair look. Whether you are getting a hairline tattoo or a scalp tattoo, the technology used is the same.
The processes involved in getting a scalp micro pigmentation are straightforward, although there are a lot of steps involved.
1. Booking:
The very first step is getting an appointment with a legal scalp micro-pigmentation practitioner. The purpose of this meeting is to discuss what you want and ask whatever questions you have concerning the process. The consultant will answer all your questions.
Also, you can request help in choosing one out of the many hairline styles. The scalp pigmentation artist will only design a style you select.
2. Sessions:
The micro pigmentation process will be done within two or three sessions. The number of sessions depends wholly on your needs.
A session lasts for about two to three hours. Also, each session is set 10-14 days apart. Majorly, these free days are to allow your scalp rest and for the pigment to settle in your scalp for the final look.
3. Healing:
Healing is an essential part of the process of scalp micro-pigmentation. However, it is a natural process and does not need any boost.
All you need to do is stay out of steam rooms, swimming pools, and tanning beds. Also, you need to avoid sweating profusely and shampooing. In addition, for the next four weeks after the tattooing, do not scrub your head.
Difference between Scalp Micropigmentation and Normal Tattooing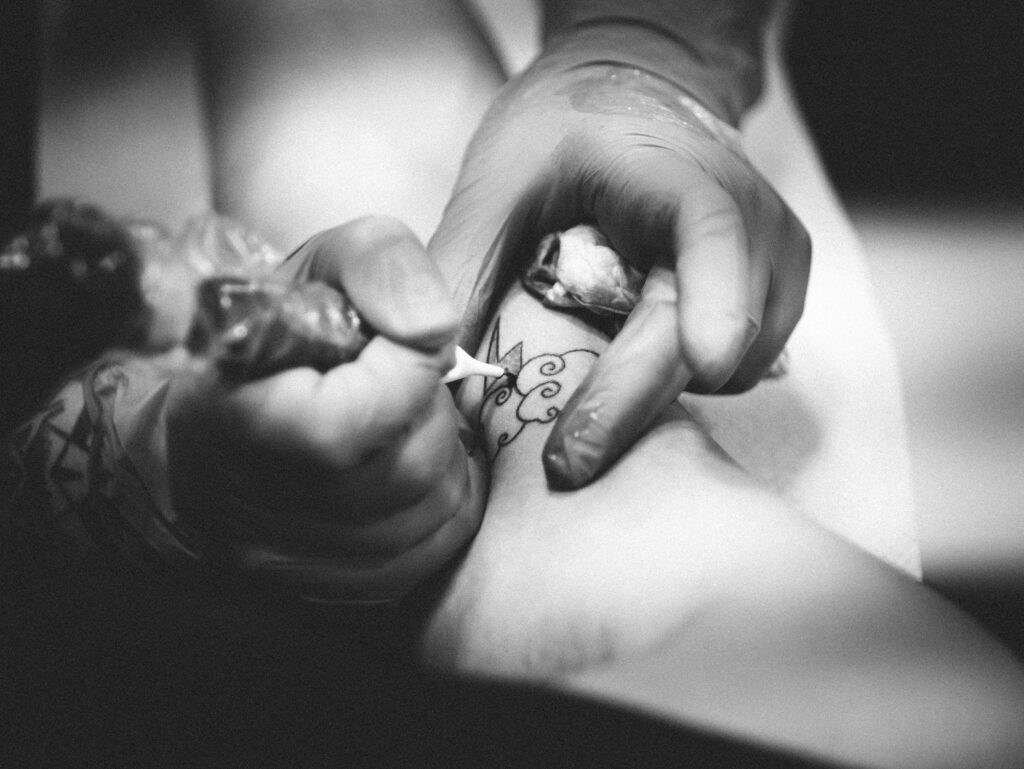 Even though it is often called hairline and scalp tattooing, scalp micro pigmentation is very different from normal tattooing.
Scalp pigmentation is more of a form of a permanent cosmetic than it is a tattoo. Scalp micro pigmentation won't change color after a long time. However, it is normal for it to fade.
The pigments used for the micro-pigmentation process have no additives or added colorants. Therefore, unlike tattoo ink, the pigmentation will not change color. It will only fade.
More often than not, tattoos are designs that are made with ink. Contrastingly, scalp micro pigmentation is done with the pointillism technique. Lots of tiny pigments are deposited around the head to create a look identical to that of a natural hair follicle.
There's no shading or drawing involved in the process.
How to Remove Hairline and Scalp Tattoos
Can hairline and scalp tattoos be removed? Well, yes, hairline and scalp tattoos can be removed.
Even though hairline and scalp tattooing is almost permanent, it can be reversed.
The removal process is called laser scalp micro pigmentation removal. If the treatment was applied correctly, in the right depth, and using the proper pigment, it can be removed in just one laser process. However, if the treatment wasn't appropriately applied, the removal process would not be easy.
The removal process is almost similar to a tattoo removal process. Nevertheless, it is more intense.
Also, you should know that this process isn't as safe as the pigmentation process. For example, you could get burned by lasers if not appropriately handled. Or, you stand the risk of hypopigmentation (skin lightening) or hyperpigmentation (skin darkening).
This is why it is essential to have this done for you at the hand of an expert.
However, there is a newly developed method for removing hairline and scalp tattoos. This process involves no lasers and saline and is called UNDO. It was developed by Seif Sidky and Candice Piroli of Estetique International.
The UNDO process is completely safe, with no risks, and is less painful than the laser method.
Conclusion
Looking good is paramount to all humans. Our hair contributes significantly to our looks. This is why we opt for hairline and scalp tattooing to restore lost hair. The process is for both males and females. I hope you enjoyed this article? Did you learn something new? Do you have any questions? Let us know in the comment section.
Enjoy This Article? You May Also Like: