Losing hair can occur across every part of the body, especially the scalp area. It is temporary for some people, while it can be permanent for others. It makes you wonder what causes hair loss (alopecia) and why it appears suddenly after several years. We shall be looking at some signs of hair loss, symptoms, causes, and prevention in this article.
We can trace hair loss to genetics, medical conditions, or hormonal changes in most cases. Alopecia is inevitable for older adults. The occurrence in young adults might be due to the earlier factors. Fortunately, hair loss treatment can make up for what you lost.
Hair loss may happen dramatically and rapidly. But before it does, it shows some symptoms. So what are the symptoms of alopecia that you should know?
Key Takeaway
Hair loss is when an individual loses hair in small patches, usually on the scalp, in an unnoticeable way. The affected individual may not notice their hair falling apart initially. It will become glaring after several connected patches become scanty. It happens in men and women. It usually occurs as a result of an attack on the hair follicles.
What is Hair Loss (Alopecia)?
Hair loss is a systemic disorder that forces hair to fall out from the scalp or other parts of the body. It is a distressing condition that negates the normal hair growth cycle caused by the immune system's attack. It is worth pointing out that hair shedding differs from loss.
Excessive stress can make you shed hair, but it will grow out during the next cycle. Hair falling out implies no replacement for what fell out. That is affected people are searching for hair loss treatment. People with inherited hair loss genes have a higher probability of losing theirs too.
Causes of Hair Loss
Genetics
It is possible to inherit hair loss from parents or grandparents irrespective of your skin type or country. Androgenic alopecia is the medical term for hair loss in humans. The hair follicles may start shrinking at a young age for some people. In others, it may last until they are adults.
Thinning is a typical sign of hereditary hair loss in women. In men, it is bald spots around their scalp.
Age
Whether we like it or not, hair will start growing slowly when we get to a certain age in life. If you notice this as an adult in the late 40s or early 50s, nothing is wrong with you. That is old age catching up with you gradually. You will begin to see thin hair on your scalp at that stage.
Another effect of getting old on hair is losing its color and beauty. There are treatments to maintain your hair when this happens.
Hair Disease
The hair follicles that hold the hair can be susceptible to attack in some people. The body's immune system can cause Alopecia areata, a disease-causing hair loss. Apart from the scalp, it can make hair fall off in other body parts, including eyebrows. It requires proper treatment to prevent further damage.
Chemotherapy
This is a diagnostic examination for people who have cancer. It involves radiation, which can make the patient hair fall off when the treatment begins. However, you can have your hair proliferate with medications. It is advisable to see a Dermatologist for this purpose.
A preventive measure a cancer patient can adopt is wearing a cooling cap before and after chemotherapy sessions. This is not a guarantee, but it helps in some patients.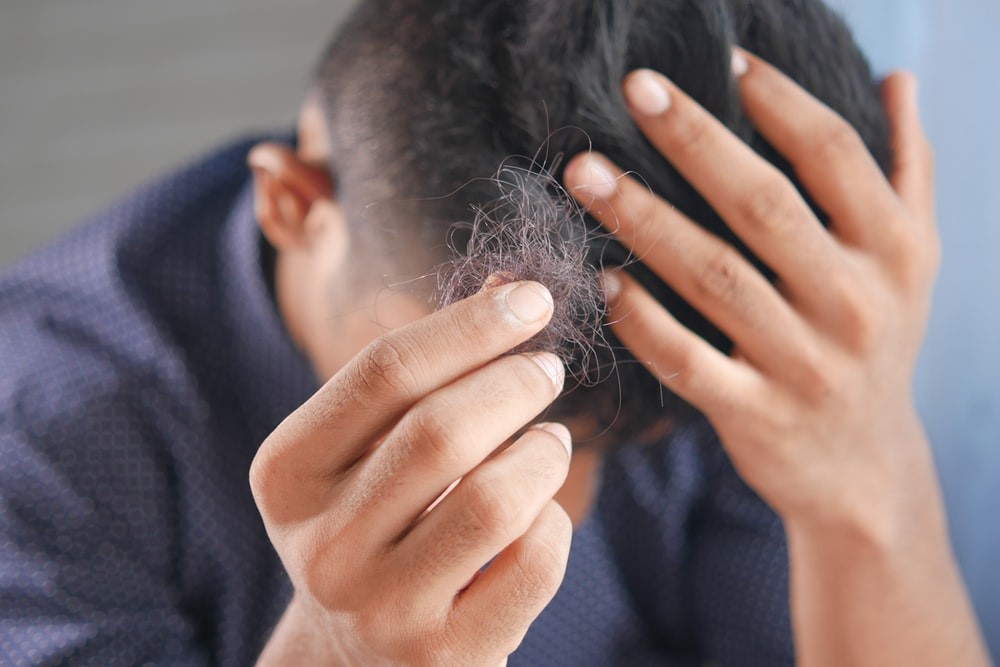 Severe Sickness and Operation
A seriously ill person or some that just had a successful operation will lose more hair. This may continue if the body finds it difficult to readjust to its initial state. Fortunately, your hair can grow back after the person fully recovers. Excessive shedding of hair occurs in situations like these, including stress.
Hormonal Imbalance
Polycystic Ovary Syndrome (PCOS) brings about cysts in women, leading to hormonal imbalance. This occurrence causes women to lose hair. Using birth control pills disrupts the expected concentration of hormones. A woman will experience a temporary hormonal imbalance, which leads to the growth of thinning hair on the scalp.
Symptoms of Hair Loss
Now, let's take a look at the signs of hair loss (symptoms). What causes hair loss determines what the symptoms will be. It could be gradual or sudden. It may cut across the whole body part or around the scalp only. Irrespective of the case, the following are the signs you may notice:
Patchy Bald Spots
When you notice that your scalp is itchy or any part of your body, it could mean hair falling off in the area. It comes with mild pain and usually happens in a circular pattern.
Hair Thinning
This type of hair loss comes with growth. It is common among both men and women. The hair starts to recede gradually as we grow. It will soon become glaring because it appears in a pattern.
Sudden hair detachment
A sick person will lose hair faster, especially when combing or washing it. It can happen in any part of the body temporarily. Loosening of hair is usually due t emotional shock.
Full-body hair loss
Chemotherapy treatments and some medical treatments can cause full-body hair loss. The radiation involved in the process makes hair fall off. However, it will likely grow back after recovery.
How to Prevent Hair Loss?
Once you notice any signs, seeking a solution should be the next thing on your mind. Several hair loss treatments are available for managing the situation. There are preventive and restorative measures to take.
Combing and brushing are regular hair care activities. Ensure you detangle your hair correctly and prevent pulling when combing. Desist from using harsh treatments. Not all vitamins for hair loss are ideal. Do your findings before deciding on the best one for you.
Sunlight rays can have devastating effects on your hair. It would be best if you prevented direct contact with the sun. Consult your doctor on effective ways to take care of your hair.
Conclusion
signs of hair loss may vary from individuals. Yet, hair loss can happen to anyone. What is important is taking the proper measures to prevent further damage. Before using a supplement or any medication, be sure that they won't be harmful to your hair. Most of the little things that we ignore contribute to alopecia.
Enjoy This Article? You May Also Like: