Hair loss is a natural occurrence for most people as they age. However, others may be affected by either genre or physical conditions, such as hormone changes or pregnancy. Here's a comprehensive hair loss treatment guide. Read on!
While both men and women can suffer from hair loss, men are more prone to it. According to statistics, the male-to-female baldness ratio is 7:4.
With the rise of innovation in every element of the medical world, hair loss treatment has become extremely simple and economical. However, consistency is essential for optimal regrowth.
Key Takeaway
Alopecia, commonly known as hair loss, is a hair deficiency mainly found in adults. A variety of reasons can cause hair loss, but age and heredity appear to be the most significant.
Surgical and non-surgical methods are available, such as PRP hair treatment, arguably the most successful treatment available.
Other effective measures include dieting, getting sufficient rest, having hair transplants, getting scalp massages, etc.
Treatment of Hair Loss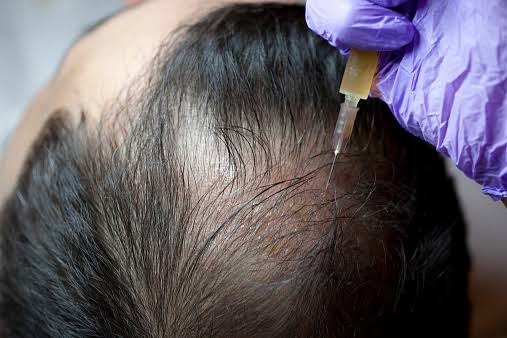 The possibility of hair regrowth after it has fallen off is dependent on what caused the hair loss in the first place. Hair loss caused by aging may not regrow, particularly in men.
Hair loss treatment is most successful if started as soon as possible. If you realize you're shedding more hair than usual, intervene quickly; a stitch in time saves nine.
You must identify the reason for hair loss before treatment can begin. Because there are various probable causes of Alopecia, you should see a dermatologist for a scalp biopsy. This would aid in determining the exact cause and allow doctors to determine the best course of treatment to use.
You would not have to be concerned about the hair loss treatment cost because there are inexpensive home techniques you may do to restore your once-full hair. Some good strategies to treat Alopecia are listed below.
1. Changing your eating habits and taking supplements
Proteins, iron, and zinc are essential for having a full head of hair. Hair deficiency can result from a lack of certain minerals.
You might have a diet plan designed for you to provide your body with the nutrition it needs. Alternatively, you could ask your doctor to prescribe a hair supplement.
Biotin, Niacin, and Folic acid are three of the most popular and effective hair supplements.
2. Getting Platelet Rich Plasma (PRP) treatment
This is by far the most successful non-surgical hair loss treatment method. It was initially developed to help wound healing; however, it has now been a quick stimulator of dominant hair follicles.
PRP for hair loss involves pulling out one's blood, purifying it, and reinjecting it into the scalp. Plasma is found in large concentrations in the human blood. In addition, platelets, which are found in plasma, can regenerate.
The only disadvantage of this method is the cost. PRP hair treatment costs between $1500 and $3000.
3. Getting more sleep
According to research, anxiety, stress, and chronic anxiousness have been linked to hair loss. In addition, when the body does not get enough rest or sleep, it loses its capacity to create epithelial cells that support hair growth.
Regardless of how complex your job or daily routine is, make an effort to allow yourself enough rest. This is not only necessary for your hair loss treatment, but it also contributes to the general health and development of the human body.
4. Staying moisturized with essential oils
Massaging your scalp with essential oils daily helps widen the scalp's blood vessels. You improve blood circulation and the root of hair follicles by doing so.
Rosemary lavender, coconut, almond chamomile, and sage oil are particularly beneficial for increasing hair development, hair loss, hair thickness, and hair softness.
5. Getting a Hair Transplant
Hair transplantation is a medical procedure that includes removing hair from a hairy area and transplanting it to a bald or hairless area.
This procedure has helped several bald persons who were previously self-conscious about their hair loss regain confidence. Aside from being safe and successful, hair transplants are permanent.
Conclusion
Hair loss can be either temporary or permanent, and everyone must go through it at least once in their lives. In addition, you can find follicles in practically every part of the body; this indicates that the other portions may also develop patchiness.
Hair loss is often a challenging experience for anyone. However, we understand that losing your most appealing face feature is complex, and we are here to help you with all the assistance you require.
If you have any more questions regarding hair loss treatment, please leave them in the comments area below. We'll get back to you as soon as possible.
Enjoy This Article? You May Also Like: