‍Did you know that the hair follicles on your eyebrows are the same as the ones on your head? You can lose your brow hair if you have Alopecia (an autoimmune disorder). Although Alopecia eyebrows is not as common as losing your scalp hair, it occasionally happens.
Many people with alopecia areata and albinism would likely be experiencing eyebrow hair loss or even complete loss of their brows due to their condition.
Whether you have Alopecia or not, if you are self-conscious about thinning or missing eyebrows, there are ways to remedy the situation. Examples of such solutions are eyebrow restoration or eyebrow transplant. These options can help to stimulate hair growth in the affected region. Here is everything you need to know about alopecia eyebrows and how to fix them.
Key Takeaway:
Alopecia eyebrows is a type of hair loss or skin conditions that affects the upper part of the eyebrows. Usually, it is caused by hormonal imbalance and genetic factors, but stress and sun exposure can also contribute to alopecia eyebrows.
Alopecia eyebrows which are related to fibrosing alopecia, are often treated with medications or medical procedures such as micro-needling or laser treatments. Treatment options vary depending on the severity of the condition and the rate at which it progresses.
It usually takes several months before results are noticeable, so it may take some time to find the proper treatment for you. You must visit your doctor regularly to monitor your progress if you have alopecia eyebrows.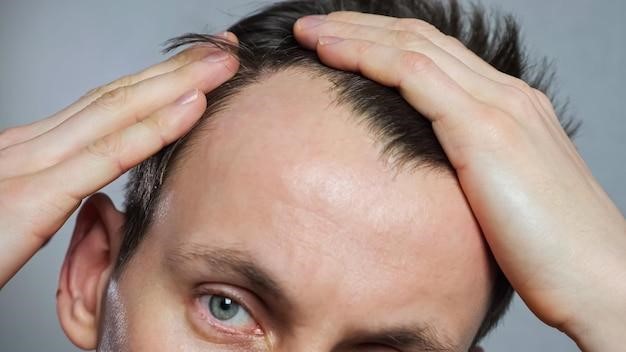 How does Alopecia affect the eyebrows?
When people experience Alopecia, they tend to lose hair from the follicles on their heads. However, the eyebrows are made of the same follicles and are susceptible to the same condition.
The hair on your brows will fall out and not grow again (Alopecia eyebrows). Depending on the severity of the Alopecia, this can be permanent or temporary. Alopecia does not discriminate against gender, age, or ethnicity. Anyone can potentially suffer from it.
Alopecia areata, an autoimmune condition, is the most common cause of hair loss in the eyebrows. It is a condition that causes hair loss in patches on the scalp and other parts of the body. Although Alopecia is more commonly seen on the scalp, it can also be found in the eyebrows and other body parts such as the eyelashes and the rest of the body.
What causes Alopecia in eyebrows?
The exact cause of Alopecia is unknown, but doctors believe it is an autoimmune condition. There are various types of Alopecia, and Alopecia of the eyebrows is usually due to alopecia areata. This autoimmune disease typically causes hair loss in patches, but it can sometimes spread to all of the hair on the body, including the eyebrows.
Alopecia eyebrows can also occur due to stress, vitamin deficiency, chemotherapy, or infection, but the most common cause is alopecia areata. In most cases, alopecia areata will regrow after a few months, but sometimes it can last for years. Some people experience repeated episodes of Alopecia, while others will have one episode and never experience it again.
How to treat alopecia eyebrows?
If you are experiencing hair loss in your eyebrows, you should consult a dermatologist and be tested for Alopecia. The doctor will examine your eyebrows and scalp hair, and they will perform blood tests to rule out other causes of hair loss.
If you have Alopecia, a dermatologist will recommend treatments such as steroids, immune boosters, and topical vitamin B12 applications to boost your immune system.
They may also recommend PUVA therapy, which involves exposing your skin to the sun's ultraviolet A rays. If you have Alopecia of the eyebrows, you can try applying eyebrow gels and pencils to make them appear thicker. You can also get eyebrow tattoos to make them appear thicker and fuller, giving them a more natural look.
Alternatively, you can try eyebrow growth serums to help your eyebrows grow back faster.
You can also use eyebrow extensions to give the illusion of fuller, thicker eyebrows. Eyebrow extensions are small pieces of synthetic fibres or natural hair that are glued to your real eyebrows.
The glue is completely harmless, and it will not cause any damage to your eyebrows. Once the glue has dried, you can use an eyebrow gel to set the extensions in place.
Permanent eyebrow tattoos
Eyebrow tattoos are quite popular with people who have Alopecia eyebrows. They are semi-permanent and will fade after a few years. They often extend the eyebrow line to make the brows appear thicker and more symmetrical.
However, you should be aware that eyebrow tattoos are not for everyone. They are not recommended for people with an autoimmune condition, such as Alopecia, because the ink from the tattoos can get into the bloodstream and cause a reaction in the body.
If you decide to get eyebrow tattoos, you should ensure that the tattoo artist uses a sterile, single-use tool for each client. It is also important that the artist uses a reputable facility, as unhygienic conditions can put your health at risk.
Fillers and micro-needling
If you would like to avoid getting tattoos, another option is to use brow fillers. They are available in various colors, allowing you to choose the shade that best matches your hair dye.
Another option is micro-needling, which helps promote hair growth. It is a form of microsurgery in which tiny needles are used to puncture the skin. These punctures create holes in your skin and allow the hair to grow back thicker.
Conclusion
Alopecia eyebrows is treatable, though it may take some time to find the right solution for you. The most important thing to remember is that you don't have to go bald if you lose your eyebrows.
There are many options available to help you maintain your brows. Whether you decide to use micro-needling, permanent eyebrow tattoos, or eyebrow gels and pencils, you can feel confident knowing that you are not alone. Be sure to seek appropriate medical advice.
Enjoy This Article? You May Also Like: