If you want to know more about female pattern baldness, also known as androgenetic alopecia, you're in the right place. This article will discuss the causes and symptoms of female pattern baldness and the best treatment options available. Keep reading to learn more.
Key Takeaway
Women are most likely to develop female pattern baldness (FPHL) in their 40s, 50s, or 60s. According to a recent study, female pattern hair loss affects approximately 40% of women by age 50, and managing the condition can be challenging.
Female pattern baldness can be caused by various factors, including genetics, hormones, and stress. It might not be possible to prevent it from happening, however, there are treatments that can help slow down or stop hair loss in some women. These treatments include prescription medications and surgery.
Hair transplant surgery is the most effective treatment for female pattern baldness as it is a long term solution. If you, a friend, or a loved one is experiencing FPHL we recommend talking to a specialist for a permanent solution.
What is Female Pattern Baldness?
Female pattern baldness is a type of hair loss that can be caused by hormones, stress, or aging. Although uncommon, it can start to appear as early as a woman's late 20s or early 30s, and worsens with age until it reaches its most severe phase in menopause.
The symptoms of female pattern baldness include hair loss on the scalp and other parts of the body. Hair loss on the scalp can be seen as a receding hairline or general thinning over time, as well as hair breakage and shedding.
Symptoms of Female Pattern Baldness
The most common symptom of female pattern baldness is hair thinning. The distribution of hair thinning varies from person to person, but it typically starts at the temples, the crown, or the back of the head.
A hormonal imbalance can cause hair thinning, and this type of hair loss is more common in women than in men.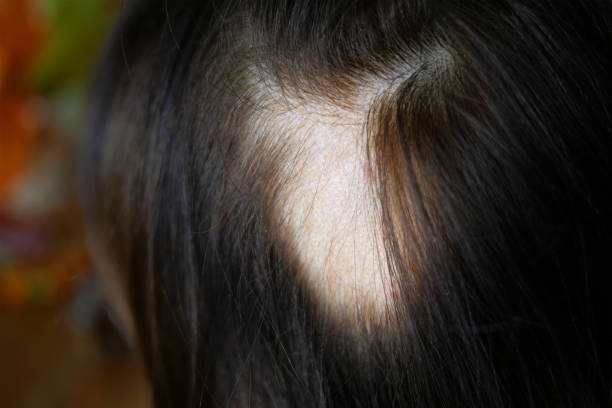 Causes of Female Pattern Baldness, and How to Get the Most Out of Your Hair Loss Treatment
Female pattern baldness is the most common type of hair loss in women just as male pattern baldness is in men. It occurs when the hair follicles become damaged and gradually produce thinner and thinner hair.
As we mentioned earlier, the cause of female pattern baldness is often linked to hormones called androgens, which are found in the skin and hair follicles. The skin cells that produce hair are small and need a protein called fibroblast growth factor in order to grow.
This protein is blocked by the androgens, which means that too little of the protein is made. As a result, fewer and fewer hairs are produced on the scalp, leading to thinner hair. Certain medications or illnesses can also trigger female pattern baldness.
Treatment Options for Female Pattern Baldness
Female pattern baldness treatment options differ for every woman, so it's important to find what works best for you. Some treatments have been proven to help with restoring hair growth.
Let's take a look at some treatments for female pattern baldness.
Minoxidil:
This topical medication is used to stimulate hair growth on the scalp. It can typically be found in over-the-counter pharmacies and can be used up to two times per day.
Some side effects of minoxidil can include facial hair growth, acne, and a burning sensation when applied to the skin.
Minoxidil comes in a 2% solution for topical use and a 5% mixture for oral use. It is also available as a topical foam, lotion, or jelly.
Oral medications:
These are also used to stimulate hair growth but are taken orally. They have been shown to work for some people but not for others, and these medications can cause side effects like nausea and headaches, limiting their use for some people.
There is a great deal of debate as to whether oral finasteride can be used safely and effectively to promote hair growth in women. Oral finasteride is approved for use in men only and has not been proven to be safe and effective for women.
Laser treatment:
This is another option for stimulating hair growth on the scalp. Different types of lasers have been shown to work better than others in certain cases, so it's important to discuss with your doctor which type might be best for you before starting therapy.
Hair transplantation:
A hair transplant, also known as hair restoration, is a surgical procedure that involves removing healthy hair follicles from one part of the body (usually the back or sides of the head) and implanting them into balding areas of the scalp.
It is used to treat hair loss not only on the scalp but also on other parts of the head and any other area where hair loss has occurred due to trauma or illness.
The procedure is frequently combined with a brow lift and facelift, intended to accentuate the appearance of a patient's face.
Hair transplantation consists of two phases:
Harvesting (or "strip surgery")
Implantation.
During strip surgery, hair follicles are removed from the back and sides of the scalp. Some surgeons may perform this procedure as a separate step by removing only follicles from the back and sides of the head (known as "bilateral strip surgery").
During the implantation phase, hair grafts are performed on areas of the head where hair loss has occurred, and this can be done in several ways. Suction-assisted hair lift is a method that uses suction to lift up scalp hair, followed by the use of an electrode to cut the hair at the root.
This suctioning technique is unsuitable for all patients and requires medical training to perform correctly. Another approach is to use a combination of surgical scalping and suctioning.
Hair transplantation is the most effective and permanent solution for those experiencing female pattern baldness but requires a healthcare professional to extract hair from one area of your scalp and place it into an area where you have lost hair. Over time, the transplanted graft will grow along with your root follicles as if it's always been there.
How long does it take?
Scalp restoration surgery can be done within 2 hours and generally takes 1-2 weeks to completely heal.
How Can You Prevent Hair Loss at Age 20 and Beyond?
The first step in preventing hair loss is ensuring you get enough nutrients from food sources like vegetables, fruits, and meats. Vitamins A and B help with your scalp health as well as with your general health. You can fight hair loss with a healthy diet and supplements like biotin, vitamin D, and zinc.
Conclusion:
Female pattern baldness can be difficult to deal with and knowing the facts about it and how it affects you is important.
Female Pattern Baldness is not a disease but rather is a condition.
There are three phases of female pattern baldness: (a) an active phase, (b) a dormant phase, and (c) a regrowth phase.
The most common trigger for female pattern baldness is genetics.
Female pattern baldness will affect 1 out of every 4 women in their lifetime.
Female pattern baldness is not contagious and cannot be passed to another person through contact or contact with hair.
The best approach to dealing with FPB is a hair transplant.
Enjoy This Article? You May Also Like: