Like the popular micro blading for your eyebrows, micro scalp pigmentation treatment is similar to the scalp (microscalping). The patients for this nonsurgical tattoo-like process (hair tattoo to mimic fuller hair) either suffer from alopecia or any other permanent hair loss condition.
However, unlike other forms of micro pigmentation, this one takes more time and involves using needles for skin penetration. Nevertheless, the treatment is relatively easy, and here is the guide you need before going in for your micro scalp pigmentation session.
Key Takeaway
A micro scalp pigmentation treatment is a great option if you suffer from permanent hair loss conditions. All you need to do is fix an appointment with a good tattooist or doctor. Then, you're good to go as long as the person involved is certified and experienced.
To make the procedure easy, avoid eating foods and taking drugs that will thin your blood. This way, you will not over bleed during the micro pigmentation.
Also, prepare yourself for the procedure mentally so it is easier. People of any gender can have a micro scalp pigmentation procedure. All that is done during this procedure is that a specialist works to ensure they leave dots replicating your hair. Such that it blends in with your natural hair follicles and is not easily noticed.
Who Needs Micro Scalp Pigmentation (Micropigmentation)?
Micro scalp pigmentation tattooing is a procedure that is a sure bet for people who have permanent hair loss issues for example:
Alopecia.
Cancer.
Thinning hair.
Receded hairlines
Pattern baldness or Completely bald cases.
This tattooing process is not advisable for children.
Step By Step Guide on Carrying Out Micropigmentation or Microscalping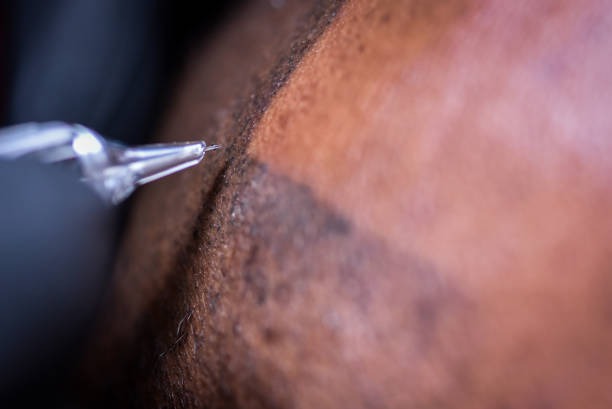 (image: source)
Usually, individuals cannot carry out SMPs themselves. You cannot have your Scalp Micropigmentation Procedure in front of a mirror and hope for the best results.
However, this is only because the process takes a lot of steps, and one needs to be very careful while attempting it.
So, the first step you go through before having your micro scalp pigmentation procedure is the preparatory stage. Here, you prepare for the process and try to make it easier for whoever is carrying it out. Contrary to the process itself, you can carry the preparatory stage out yourself without the help of anyone.
Typically, there are 5 steps for you to go through to know you have completely prepared yourself for the SMP physically. These are:
● Keep Your Scalp Moisturized: Soft Skin is Essential
If your scalp is very soft, it helps the micro pigmentation go smoothly, since the needles go into your skin with less trouble. To achieve this, you'll need to apply your moisturizer a week before the procedure. This way, you get better results.
Go in with the scalp moisturizer twice a day, once in the morning, and once at night.
The whole aim of doing this is so the needle doesn't bounce back up when the doctors try to insert it, especially since it is needed just slightly under the skin for micro scalp pigmentation.
● Trim Down Your Hair the Night Before Your Appointment
If you don't get to a barber before your micro scalp pigmentation treatment, it's nothing to worry about. First, get a pair of scissors or clippers and trim down your hair to the farthest down you can get. Then, use a foil/electric shaver to bring it down to skin level. Ensure this process is sterile and done carefully to avoid any cuts.
● Avoid Activities and Substances Capable of Thinning Your Blood
Substances like:
Aspirin.
Energy drinks.
Caffeine.
Alcohol.
It shouldn't be on your plate before your micro scalp pigmentation process. If you consume these items, you put yourself at risk of bleeding more during the procedure. While you may think the bleeding is the only problem, it is not. The blood can stain and dilute the pigment if your blood gets thinner before the micro scalp pigmentation session.
● Pick the Hairline You Would Love
You must pick which hairline you'd love to work with to get incredible results. Go for something close to your natural hairline so the treatment is not very pronounced. To do this, you can check on YouTube, Instagram, Pinterest, or SMP company websites to see samples.
● Make Arrangements for Post SMP
The next step is to book an appointment or a free consultation with an SMP practitioner for the best SMP treatment. You will have needles inserted in your scalp repeatedly for up to four hours during this procedure. Therefore, you will need all the energy you can get to get through it.
Stock up on food and water, and prepare for someone to take you home/give you aftercare in emergencies.
After you have gone through the preparatory stages, it's time to look at what actual scalp micro pigmentation is like. In order of how they are carried out, here are the steps involved during a micro scalp pigmentation procedure:
Consults.
Cleaning.
Outlining.
Numbing.
The Micropigmentation.
Post-procedure cleaning.
Further sessions.
Note: Before going for your next session, your scalp must recover for at least two weeks. And after your last procedure, 30 days for complete recovery.
Conclusion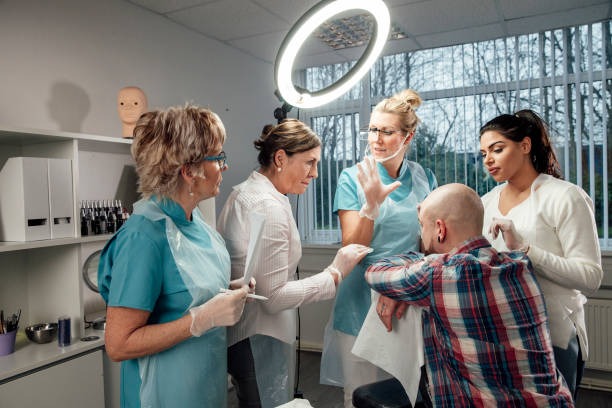 image source:Pexels
Getting a microscalping or micro scalp pigmentation treatment tattoo is an excellent idea if you have been dealing with incurable hair loss issues. Though an excellent procedure, it does have some advantages and disadvantages you should confirm when you set your appointment. Also, prices for hair loss solutions will vary depending on many factors.
What do you think about this article? Will you be trying out the micro-pigmentation method here? Is this article detailed enough? Let's hear your thoughts in the comments.
Enjoy This Article? You May Also Like: